Gunsmith Services
Gunsmith services offered includes Custom rifle building, Remington 700 conversions as well as customization, repair and service on most all name brand factory rifles, shotguns and pistols. The shop specializes in action work, barrel work, stock work, metal finishing, wood finishing, repair, part fabrication, maintenance, customization, restoration, firearm appraisal and more. From custom rifle building to drilling and taping of your favorite old rifle no reasonable task is refused.
Custom Rifle Smithing | Rifle Smithing | Shotgun Smithing | Pistol Smithing
---
Custom Rifle Smithing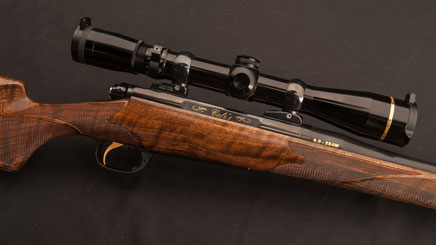 Custom rifles are built for the discretionary gun owner looking for a rifle that cannot be found on the box store shelf. Whether you have dreamed of owning an Exhibition grade handmade wood stocked rifle covered with checkering, carving and engraving or you may be looking for a hard hunting, long range weapon system. Cale's custom rifles are built to your specifications and desires. Using the action of your choice, barrels, stocks, triggers, scopes and accessories are assembled completing your personalized custom rifle package.
Remington 700 conversions are offered and will take your rifle to its next level of performance and styling. The Remington 700 action has been used as the platform to build many target, tactical and accurate hunting rifles. Whether you are looking to accurize your favorite rifle one step at a time or completely converting it to a custom rifle, many conversion tasks are provided. Cale offers action truing, bolt sleeving, barrel installation, stock work, pillar bedding, stock finishing, trigger work, muzzle brake installation, tactical or checkered bolt knob installation, metal finishing, scope mounting and more.
Back to Top
---
Rifle Smithing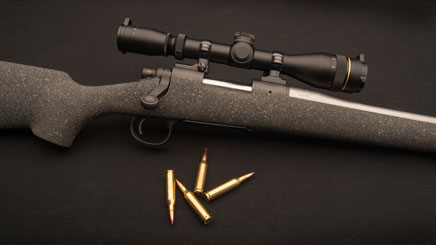 Factory rifle work is a large part of the shops business. Work is completed on most all of the big name brand manufactures. Browning, Marlin, Remington, Savage, Sturm Ruger, Weatherby, Winchester just to name a few. This country has imported many foreign manufactured sporting and military firearms. The gunsmiths at Trinidad State Junior College were Cale attended all cut their teeth completing conversions of the German 98 Mauser. Filing and polishing out rust pits, bending or welding bolt handles, drilling and taping for scope mounts or open sights.
Converting their safeties, installing barrels and triggers are all part of customizing their actions. Stocks are carved from walnut blanks inletted, shaped, sanded, finished and checkered. Metal finishing by rust bluing or hot bluing is done to complete the project. The shop will work with you at accurizing, customizing, reconditioning or repairing the firearm of your choice. Barrel installation, pillar bedding, trigger work, stock changes, scope mounting, accessory installation, repairs, reconditioning, cleaning and general maintenance is all offered at this shop.
Back to Top
---
Shotgun Smithing
Shotgun smithing on America's greats has become a passion of the shop. Many families have handed down side by side shotguns built by Fox, Ithica, L.C. Smith, Parker, Remington, Winchester and others. Restoring a family heirloom gives great pride to the owner having their grandfather or fathers gun put back into working order after many years of use. Stories are told of guns that feed the family during the depression or swung at a grouse or rabbit back in the day. The shop also works on high grade Italian, Spanish and English imports.
Fitting them with leather recoil pads, providing stock fitting through length of pull changes or hot oil stock bending tailoring them for proper fitting and point of impact patterning. Many older guns can be fitted for screw in choke tubes giving them the versatility of a multiple choke system. Mid beads are installed to aid in sighting and gun mount alignment. Stock making is offered along with checkering, refinishing with hand rubbed oil or sprayed durable modern finishes. Metal finishing through rust bluing or hot bluing is completed to return the firearm to its original condition.
Back to Top
---
Pistol Smithing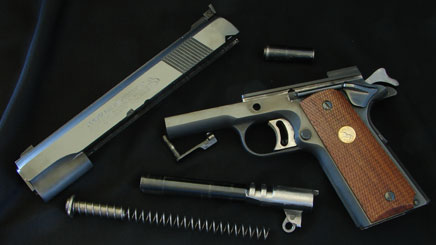 Pistol smithing has become increasingly popular. More and more people see the need to carry a handgun for personal protection. Handgun work such as repairs, night sight installation, trigger work, action smoothing, bluing and maintenance is being requested. Though many manufactures have gone to polymer frames request are still made to put together the good old 1911 style guns. Accurizing them by installing fitted barrels, barrel bushings, lightening trigger pull, installing sights, grips, metal checkering grip frames, fitting ambidextrous safeties and a whole host of custom parts are being offered.
If you want to try hunting with your handgun the shop drills and taps big bore revolvers for scope mounting and can install spring kits to smooth double action and lighten trigger pull. Reliability is important from a self defense weapon and feed problems with semiautomatics can be frustrating. The shop will assist with maintenance cleaning, spring replacement, sight installation, part replacement and repairs.
Back to Top